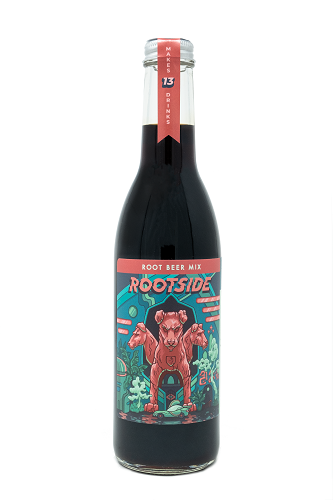 $18.00
Rootside Bitters and Mixers Root Beer Mix
Real rooty, rootin' Root Beer! .... This isn't your typical Root Beer syrup. Rootside uses whole roots and botanicals for a Root Beer that's more rooty than most. It's made to be mixed with dark, aged spirits like rum or whisky. It's got a bit of a bite and a flavour that just keeps going. Made with Sarsaparilla, Wintergreen, Roasted Dandelion Root, Allspice and Orris Root.
375ml - Makes 13 drinks, just add sparkling water!
Mix: 2 Tbsp. (30ml) Root Beer Mix, ice and top with sparkling water to taste. Dark spirits like aged rum or whisky work wonders with this botanically driven Root Beer. Made with strong roots, on Vancouver Island.
Ingredients: Water, Sugar, Molasses, Caramel, Sea Salt, Tartaric Acid, Citric Acid, Sarsaparilla, Wintergreen, Roasted Dandelion Root, Allspice, Orris Root, Sodium Benzoate, Chilli Pepper Extract, Natural Quinine
Shelf-life: Unopened, it will last 1 year - once open, keep refrigerated and it'll last for at least 8 weeks, if not longer