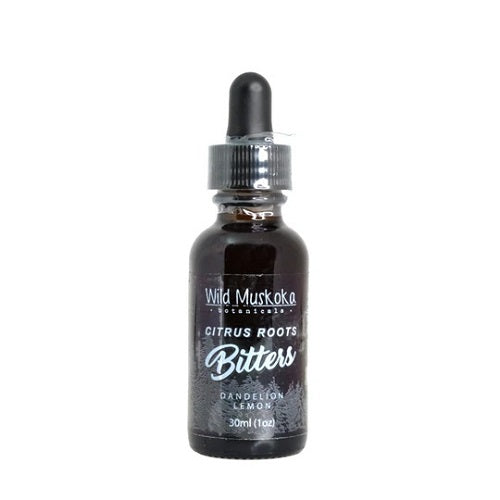 $12.00
Wild Muskoka Citrus and Roots Dandelion and Lemon Bitters
This is Wild Muskoka's original bitters formula crafted with traditional bitters dandelion leaf and root, burdock root, lemon balm grown in their homestead gardens, organic lemon peel and a dash of local honey. This is a great citrus bitters for classic cocktails or taken straight up or in soda water before or after meals to support digestion and liver function.
This is a 30 ml (1 oz) bottle.

Ingredients: 40% Alcohol, extracts of Dandelion **, Lemon Balm **, Lemon peel*, Burdock**, Yellow Dock**, Gentian *, Raw Honey.

*Certified Organic
** Wildcrafted

Add a dash of bitters (5-20 drops) to your favorite cocktail or in a bit of water before meals.
Elderflower Smash 2 oz Gin 1 ½ oz elderflower liqueur Juice of half a lemon 1 dropper Citrus + Roots Bitters 4-5 mint leaves Combine all ingredients in a shaker with ice. Shake well and pour into cocktail glass with ice. Garnish with mint sprig.