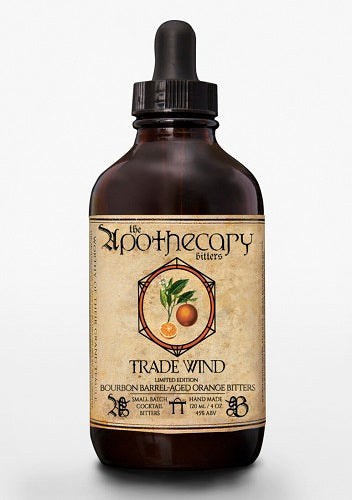 $25.00
Apothecary Trade Wind Bourbon Barrel-Aged Orange Bitters, 4 oz
From The Apothecary Bitters website:
As we drift across the seas...
These limited edition orange bitters are aged in American oak barrels that previously held bourbon, rounding them out and adding a lot of complexity, spice and warmth.
Produced as our Fall seasonal, these orange bitters have a bright, fresh orange profile lots of robust orange flavor that is supported with hints of baking spice, brown sugar, vanilla, oak and a solid bitterness.
Spirits: Any and all spirits.
Ideas: A Martini, Manhattan or Negroni.
Tasting Notes: Aroma notes of fresh orange, allspice, vanilla and wood.
Taste follows with fresh orange zest, a woody bitterness, baking spice, vanilla and candied orange peel.
Cocktail bitters in Canada! Made in Canada too!