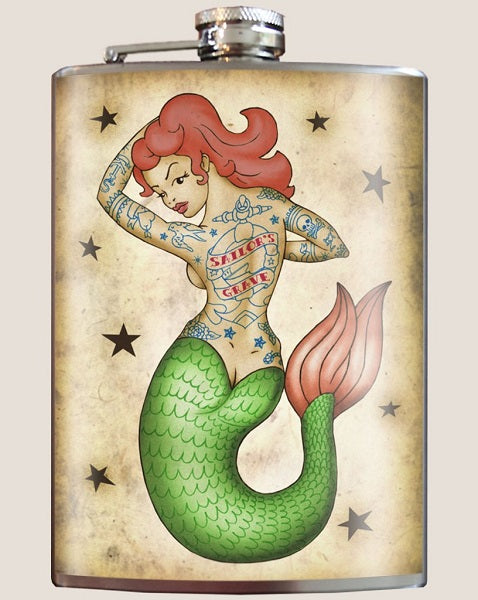 $38.00
Tattooed Mermaid Flask
Here's the "Tattooed Mermaid". She's beautiful and a bit dangerous; the ruin of many a sailor. Another of Milo's original drawings. The tattoo on her back says "Sailors Grave", a classic old school sailor tattoo.
Cheers to style!
Original art on a stainless steel hip flask; created by the artists Trixie & Milo - how cool is that?  Every flask is made from 100% lead free, food-grade stainless steel.  Each design is printed on high-quality vinyl that is both water and alcohol proof.  These flasks make an awesome gift for weddings, birthdays, holidays, special occasions, and more.
High quality stainless steel construction.
Attached screw down cap.
Measurements; 3.75" x 5.75"
Holds 8 oz. of fluid (yummy!)
Image is protected by a layer of high gloss liquid laminate, and baked on at over 200 degrees. This means it will last a long time!
Ships in a handy gift box, perfect for wrapping and ready to gift.
To clean: wash with soapy water, rinse clean, and wipe down with a soft cloth to dry. 
P.S. Actual alcohol is NOT included (sorry).  You must provide your own beverage.  This is for the flask only...