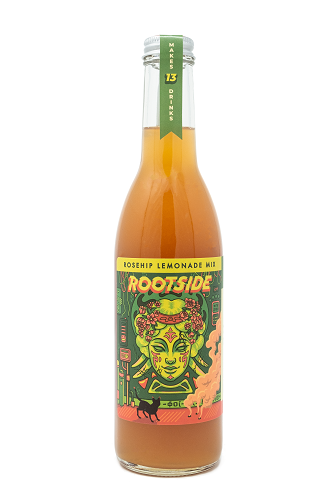 $18.00
Rootside Bitters and Mixers Rosehip Lemonade
A pink lemonade coloured naturally with hibiscus flowers and flavoured with whole rosehips. It's everything you wished lemonade could be. Fantastically delicious with both still or sparkling water and even makes a beautiful rosehip lemon tea when used with hot water! Pro tip: try it in a French 75!

375ml - Makes 13 drinks, just add sparkling water!
Mix: 2 Tbsp. (30ml) Rosehip Lemonade Mix with still, sparkling, or hot water to taste. Made with organic lemons, Bulgarian rosehips, and hibiscus flowers. Great for making cocktail sours or with a splash of local BC gin!
Ingredients: Water, cane sugar, organic lemon juice, Bulgarian rosehips, malic acid, gum arabic, sea salt, hibiscus flowers, potassium sorbate 
Allergen Warning: May contain traces of peanuts - it is common practice that Hibiscus flowers are intercropped with peanut plants in the field, so there is a small chance some peanut plant matter maybe with the hibiscus flowers steeped in the lemonade.
Shelf-life: Unopened, it will last 1 year - once open, keep refrigerated and it'll last for at least 8 weeks, if not longer