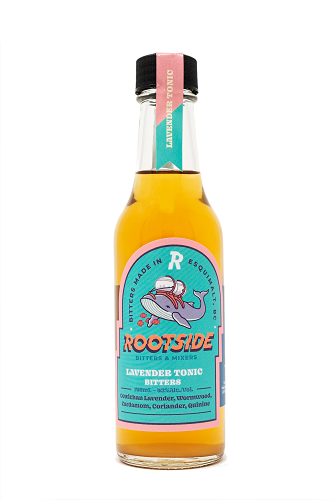 $25.00
Rootside Bitters and Mixers Lavender Tonic Bitters
148ml (5oz) - Great in cocktails or as a flavouring for soda. 
Floral, bitter and vibrant. Made for gin-based cocktails or any drink needing a touch of bright flavour.
Limited Release - Made as a direct by-product of Esquimalt Wine Company Vermouth and Rootside Mixers. Rootside takes the very same botanicals used in those products and blend them in novel ways to create delightful cocktail bitters.
Rootsdie bitters are made for life on the bar. Featuring waterproof labels, a dasher cap, colour differentiating cap straps, and a clear bottle to see the volume. 
Ingredients: alcohol, water, coriander, cardamom, lavender, wormwood, orange peel, cane sugar, malic acid, quinine, sea salt.