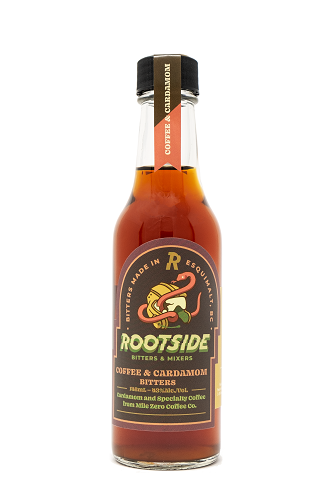 $25.00
Rootside Bitters and Mixers Coffee and Cardamom Bitters
148ml (5oz) - Great in cocktails or as a flavouring for soda. 
A classic Middle Eastern pairing comes alive in cocktail bitters.  Great for whisky based cocktails or wherever a little kick of coffee is desired.
Limited Release - Made as a direct by-product of Mile Zero Coffee Co.'s cold-brew and  Esquimalt Wine Company Vermouth! After Mile Zero makes their daily cold-brew coffee, Rootside takes their spent coffee grounds, and cardamom from their Vermouth, and blends them in novel ways to create delightful cocktail bitters.
Rootside bitters are made for life on the bar. Featuring waterproof labels, a dasher cap, differentiating cap straps, and a clear bottle to see the volume. 
Ingredients: alcohol, water, coffee, cardamom, white wine