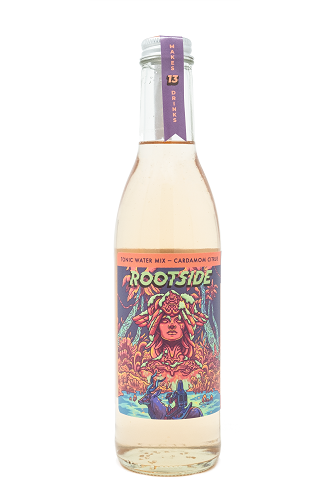 $18.00
Rootside Bitters and Mixers Cardamom Citrus Tonic Water
375ml - Makes 13 drinks, or more, just add sparkling water!
Rootside uses complementary botanicals specifically chosen to pair with great gins. Make your G&T how you like it. This mixer is essentially a concentrate so you can make your Gin & Tonic exactly how you like it, a little more bitter, a little less, it's up to you. We like a 1:5 ratio of sparkling water to our mixers, but you do you!
Mix: 2 Tbsp. (30ml) Tonic Water Mix, ice, your favourite gin and top with sparkling water to taste. A subtle yet complex blend of citrus, bitter, and floral botanicals.
Ingredients: Water, cane sugar, cardamom, lavender, orange peel, spices and botanicals, citric acid, malic acid, sodium benzoate, natural quinine 
Shelf-life: Unopened, it will last 1 year - once open, keep refrigerated and it'll last for at least 8 weeks, if not longer!