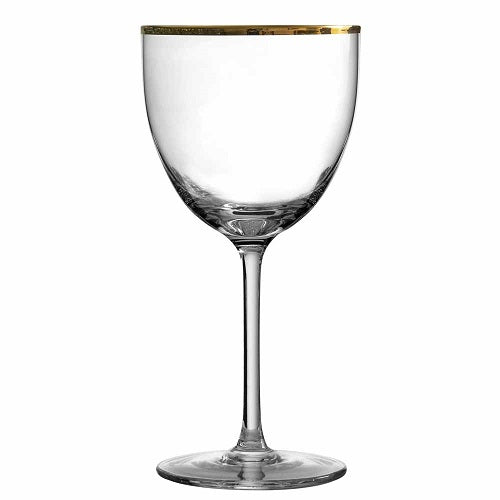 $70.00
$78.00
Retro Nick and Nora Cocktail Glass Gold Rim - Set of 6
With an elegant design, the retro Nick & Nora Glass brings sophistication to any serve. Made from lead-free crystal, this cocktail glass features brilliant transparency to accentuate the contents in a minimal drink presentation. This high level of clarity in the material is paired with an elegantly delicate stem, contrasting with the comparatively large bowl on top.
Inspired by vintage 1930s design, this cocktail glass emerged from classic detective film, The Thin Man. Taking its name from the cocktail loving lead characters, Nick & Nora Charles, this crystal stem glass is the perfect embodiment of prohibition era style.
Offering a solution to spill-prone wide rimmed martini glasses, the Nick & Nora cocktail glass has tall walls. This reduces the chance of spillage, ensuring the drinker can enjoy the fruits of your mixology.
Product Features
6 oz - Set of 6
Small cocktail stem glass inspired by classic 1930s movie "The Thin Man"
Gold rim
Elegant Prohibition era aesthetic
Tall walls offer spill-proof alternative to the classic martini glass
Lead-free crystal – FDA approved glass with no toxic additives
Delicate thin stem
Thin walled bowl gives lightweight finish to drinkers
High transparency – lasts up to 1500 industrial glasswasher cycles
Thermal shock resistance
Elegant seamless pulled stem adds beauty and strength
Laser treated rim for resistance to chipping
Dishwasher safe