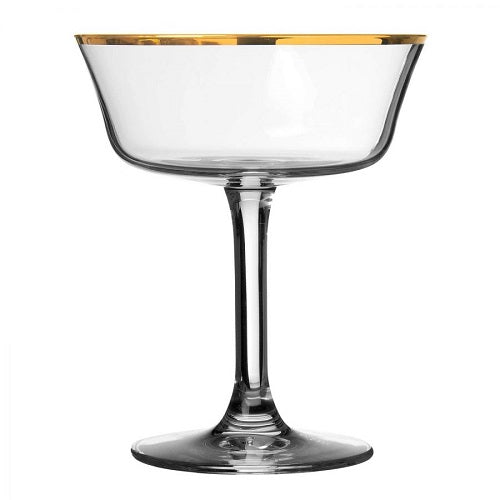 $16.00
Retro Fizzio Gold Rim Coupe
Lead-Free Crystal Elegant Fizzio Gold Rim Coupe Glass
The Fizzio Gold Rim Coupe is equally ideal for serving either champagne or cocktails. The retro flat bowl coupe design is inspired by vintage prohibition era decadence. In addition, this stunning shape is enhanced with a real-gold hand-painted rim.
Due to the lead-free crystal material, this coupe features a high level of clarity. This premium transparency helps the contents shine through, thus promoting your serve. The reflective gold rim adds an eye-catching, but minimal, decoration that frames the drink within.
Product Features
Lead-free crystal – FDA approved glass with no toxic additives
Thermal shock resistance
Mechanical shock resistance
Gold plated rim – hand applied food-safe real gold
Cut and polished rim for finer tasting
High transparency to accentuate the colour of the contents
Pulled stem – seamless for premium visual appreciation
Hand wash only
Cocktail glasses in Canada!