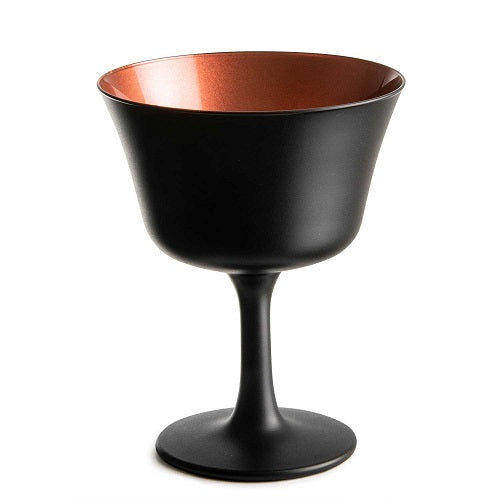 $16.00
$20.50
Oro Nero Retro Fizz Cocktail Glass
Urban Bar's popular stemmed cocktail glass gets a makeover with the Oro Nero Fizz. This bold take on a classic glass adds a matt black exterior, with a sparkling copper coloured interior. This shining copper colour sparkles out from the dark facade, creating a unique visual contrast compared to standard glassware. With a stunning look, this cocktail glass helps enhance a colourless cocktail, becoming a garnish in its own right.
Product Features:
Vintage stemmed glass with a black coated exterior and a sparkling copper colour interior
Coupe with a flat base bowl and flared sides
Lead-free crystal – FDA approved glass with no toxic additives
Premium elegance for single serves
Thermal shock resistance
Laser treated rim for resistance to chipping
Perfect for cocktails or champagne and sparkling wines
Dishwasher safe
This coupe is also available in a discounted set of 6.