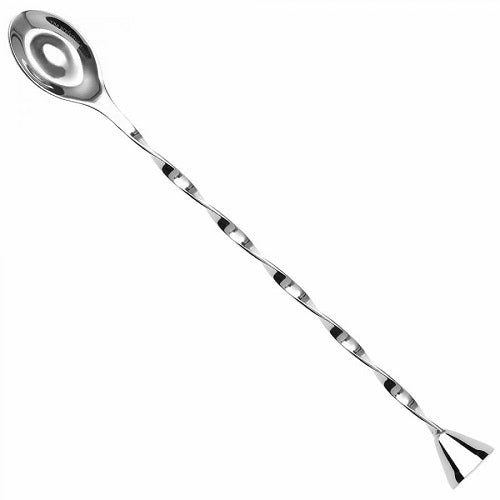 $19.00
Muddler Bar Spoon 28cm, 2.5ml & 5ml
The Muddler Bar Spoon was developed by Urban Bar with award winning bartender Wayne Collins to give a multi-purpose bar tool. The double sided measuring head lets you measure both 5ml and 2.5ml. The tip is larger and more robust than standard flat end muddlers for far more effective muddling ability.
Measure: The spoon is a double-sided measure, approx. 5ml/0.17oz in one side and approx. 2.5ml/0.08oz (a half spoon) in the reverse. It also gives a useful half measure (12.5ml) with 2x 5ml & 1x 2.5ml
Perfect for precise mixology.
Crushing: The tip of the spoon can be used to crush solid ingredients in the bottom of a glass or cocktail shaker.
Stir/Soft Rotation: Push the spoon between thumb and finger to make the spoon head rotate and mix a drink, alternatively plunge with the flat end or simply stir.
Layer/Float: Pour down the twisted shank keeping the flat end above the first spirit or hold the bowl end of the spoon in contact with the side of the glass and pour into it allowing the liquor to trickle down the side of the glass and on to the layer below.
Product Features:
Bar spoon with heavyweight end
Double sided head for small measures – 2.5ml and 5ml (approx.)
Gives refined measuring for cocktail making
Twisted stem for layering – twist is wider than standard spoons for a more comfortable hold
Made from 18/8 Japanese steel
Lightweight and strong
High resistance to corrosion and rusting
Cocktail and bar supplies in Canada!