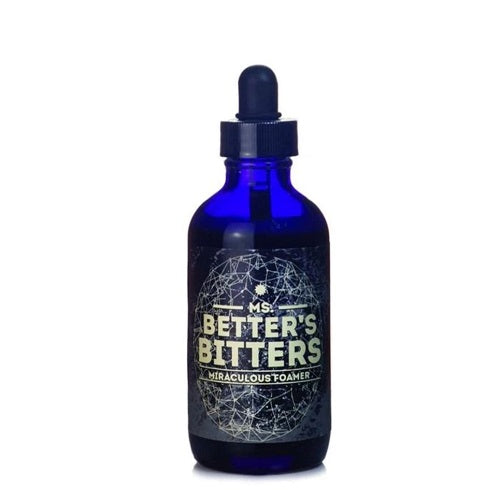 $32.00
Ms Better's Bitters Miraculous Foamer
The Miraculous Foamer is a blend of three plants, macerated in neutral alcohol. Only a quarter of a pipette is needed to replace the egg white in a cocktail.
As usual, shake without ice in a cocktail shaker to create a foam. The difference, to the eye, is minimal: the emulsifier is a bit denser and has a darker shade. Even better, it doesn't smell like eggs and the result is creamier, without altering the taste of the cocktail.
 No need to refrigerate it or juggle endless egg yolks. Not to mention the waste generated by separating the eggs!
This bottle produces 250 to 300 cocktails.
 To create this miracle product, Ms Better Bitters worked hand in hand with Tarquin Melnyk and Dylan Williams, two bartenders from Bambudda in Vancouver.
 ABOUT THE MAKER
Father and daughter based in Vancouver,  Ms. Better treats us with a new line of bitters marked with undeniable nostalgia. These unique and organic flavours are already all the craze in London and US bars alike. Their ingredients are local as well as organic, which makes for entirely new flavours carrying a deep sense nostalgia.

This is a 4 oz / 120 ml bottle