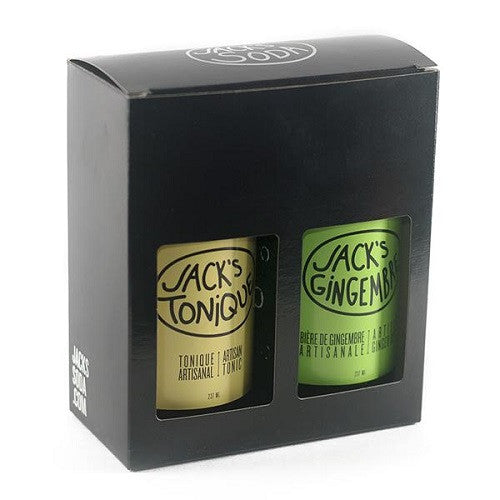 $20.00
$25.00
Jack's Tonique and Gingembre Gift Set
Two amazing syrups in one great gift set! These are 237 mls bottles, one each of Jack's Tonique and Jack's Gingembre syrups.
 Jack's Tonique is made in small batches and locally produced in Gatineau, Quebec. It has no artificial or refined sugars and no preservatives. Working exclusively with bees, honey is the only sweetener you will ever find in Jack's Tonique. It features clean, crisp spring water to extract just the right amount of bitterness from the cinchona bark; fresh lemongrass; sweet organic Sicilian lemon juice; a hint of spicy ginger; and a dash of lavender flower. Jack's Tonique is never cooked or boiled so you get all the delicate and subtle aromas from its authentic and premium ingredients.
Jack's Gingembre is an artisan ginger beer syrup made with the same approach as their tonic. Jack's Gingembre is sweetened only with Quebec honey and certified "Aliments préparés au Québec". Prepared with freshly pressed ginger juice, lime juice and Sichuan pepper, this ginger beer is refreshing and has the hotness of the ginger and pepper. This is a perfect mixer for cocktails like the Dark and Stormy and the Moscow Mule.