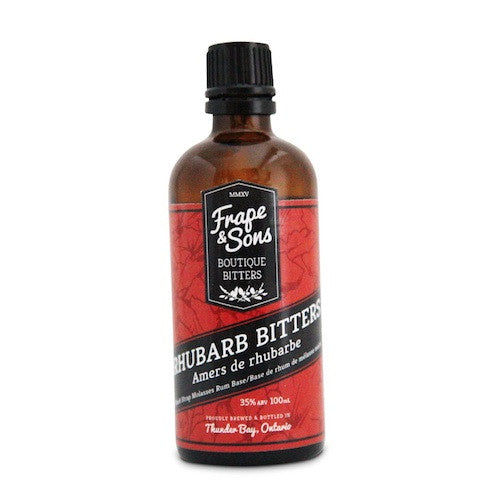 $10.00
$20.00
Frape & Sons Rum and Rhubarb Bitters, 100 ml
THE DISTILLER
Frape and Sons (F&S) is a boutique bitters distiller, formulator and bottler based in Thunder Bay, Ontario, Canada.  Equipped with brewing and distillation equipment from the hills of Kentucky and Tennessee, Frape and Sons makes batches of no more than 500 bottles at a time using ingredients local to the province of Ontario.  What is unusual about F&S compared to many bitters producers is that they don't use neutral spirits in their formulations; the alcohol bases play as much a role in the flavours as the botanicals.  The resulting bitters have been described as a little boozy, but not overpoweringly so, with a very clean finish.  
F&S bitters have broad culinary and beverage applications, and feature botanicals from the boreal forests of northwestern Ontario, the fruits of food producers from the city of Thunder Bay, and water from Lake Superior, the world's largest freshwater lake.
We carry the full line of Frape & Sons bitters.