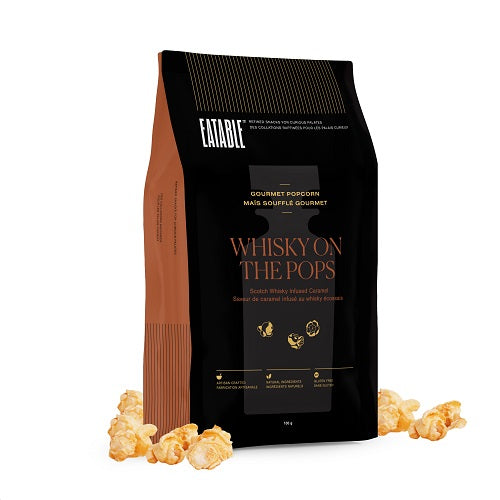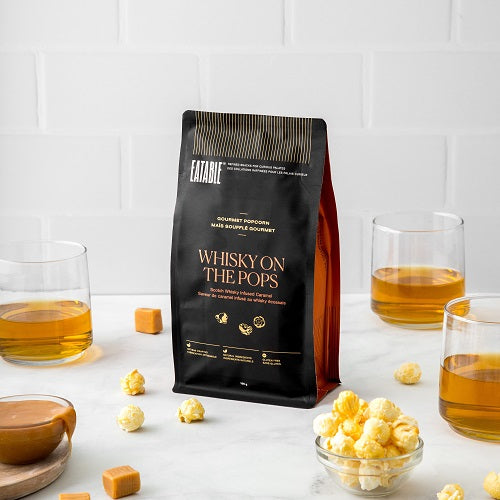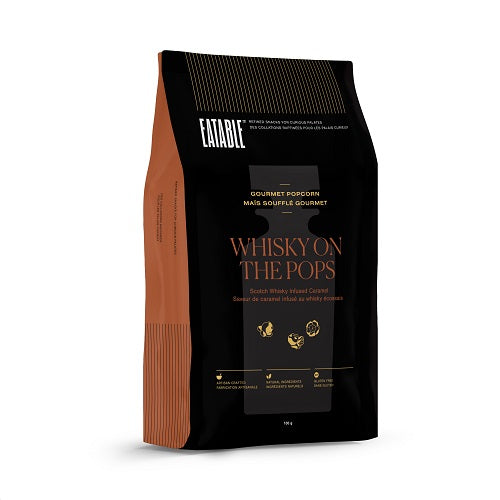 $8.99
EATABLE Whisky on the Pops Gourmet Popcorn 100 g
Smoky. Wise. Dapper.
Air-popped whole-grain popcorn coated in rich, smooth, and subtly sweet Scotch whisky infused caramel with smoky and peaty notes. Baked to deliver a satisfying crunch. 
Packaged in a high-quality resealable foil bag

9+ month shelf life when stored in unopened bag at cool room temperature.

We recommend consuming within 7 days of opening for the best taste and texture
The Perfect Gift for:
Parties, housewarmings
Weddings, birthdays, everyday celebrations
Anniversaries with your special someone
Corporate gifts for colleagues/clients/employees
Yourself–treat yourself when you're hungry and craving 
Ingredients: Cane Sugar, Popcorn, Butter (Milk), Whisky, sodium bicarbonate, Lemon juice, Salt, Sunflower lecithin
Contains: Milk
Made in Canada with locally-sourced and imported ingredients.
Note: While real alcohol is infused into the product, the alcohol content gets burned off during the cooking process, leaving the residual base flavour notes. The finished product is virtually alcohol-free.
Artisan small-batch crafted

 in Canada

Natural ingredients with no artificial colours or flavours
Non-GMO locally sourced kernels
100% Vegetarian
Gluten-free