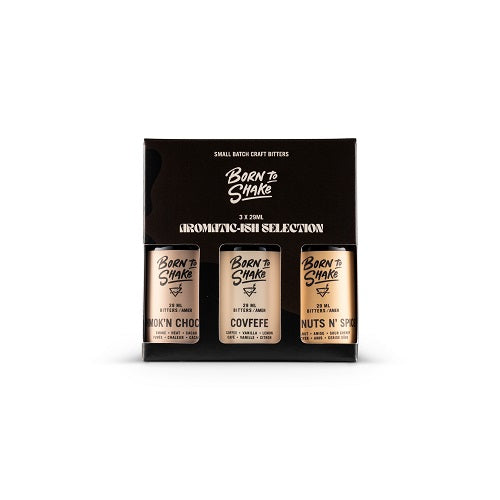 $32.00
$36.00
Born to Shake Aromatic-ish Selection Bitters Gift Pack
The perfect mix of Born To Shake aromatic-ish bitters! This box includes 3 of bitters in 29ml bottles. Our Shmok'n Choclate, Covfefe and Walnuts N' Spice. 
 Covfefe (Coffee) - Locally roasted coffee, with rich Tahitian vanilla beans, and a touch of lemon. Use for the perfect Carajillo, espresso martini, or to add depth to your favourite agave-based spirit or whiskey.
Shmok'n Choclate - Smokey, chocolatey and just the right amount of spicy. This bitter offering is a perfect match for your whiskey or favourite agave-based spirit.
Walnuts n' Spice - Nutty, and deep in flavour. With licorice on the nose and cherry and cinnamon on the tongue, this complex profile will take your whiskey for a spin. CONTAINS walnuts.