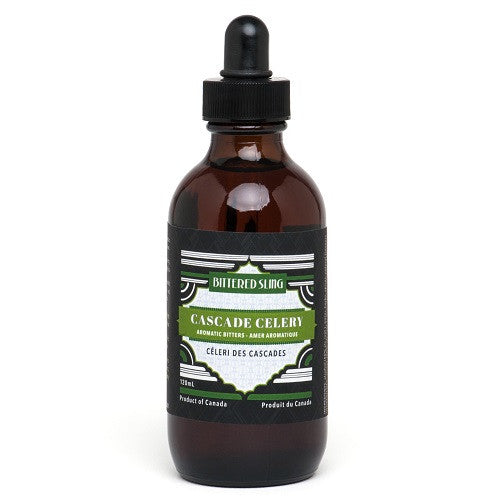 $22.00
Bittered Sling Cascade Celery Bitters
Beverage Tasting Institute International Review of Spirits Award: Gold Medal (2014)
The Cascade Celery bitters are savoury and floral with expressions of summertime green herbs; notes of celery, dill and caraway, the floral character of hops and chamomile and the bittering power of angelica and dandelion.
Beverage recommendations: Bourbon, whisk(e)y, Tequila and mezcal, white spirits, sake, dry vermouth and other aromatized wines, sherry,  sparkling water & wine; amazing in Bloody Marys/Caesars
Cooking recommendations: Vinaigrettes, cures, dressings, and marinades for olives and pickles. Use to lightly accent delicate flavours like fresh oysters, as well as sharp "umami" flavours like soy, hard-ripened cheeses, mushrooms and sea urchin.
This is a 120 ml bottle.