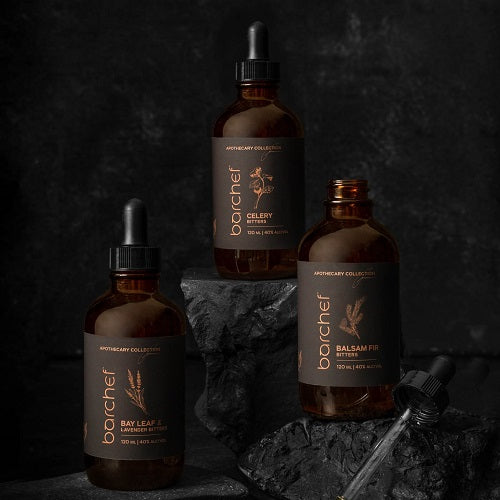 $50.00
$60.00
Barchef Bitters Bundle in Gift Box
Get all 3 bottles of Barchef bitters at a discounted price in a gorgeous gift box! These bitters utilize the same ingredients, recipes, and methods used at BarChef to execute their world-renowned cocktail program. Use these bitters as a substitute in classic recipes, allowing you to produce beautiful and deliciously complex cocktails at home.  
Bay Leaf & Lavender bitters have a beautiful aroma of Niagara lavender fields, dried grass, crisp green spice, smoked spice, juniper, and candied caraway.
Celery bitters have an aroma of crisp freshly cut celery stalk, fennel seed, white pepper corn, and juniper. Clean dryness with surprising texture and depth.
Balsam fir bitters have vibrant notes of confectionary evergreen, smoked earth, bright green spice and cotton candy. Lingering depth and character with balanced dryness.
Directions: Use 1/4oz to 1/2oz per cocktail to enhance complexity and balance.
This is 3 x 120 ml bottles.