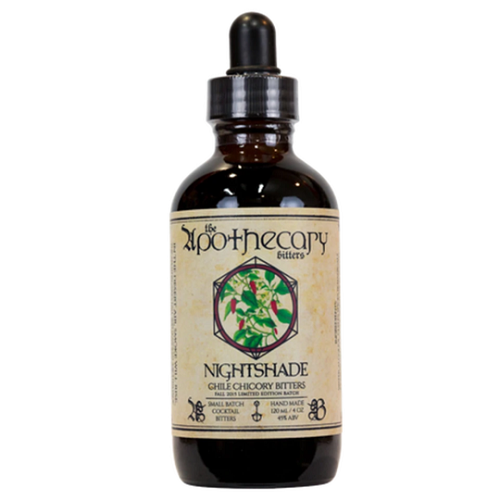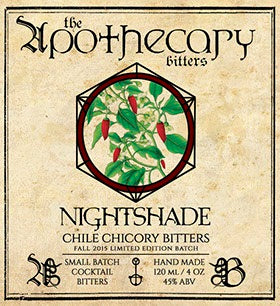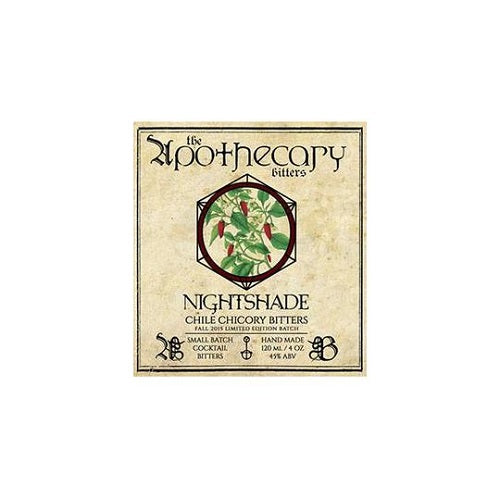 $25.00
Apothecary Nightshade Chile Chickory Bitters, 4 oz (seasonal)
From The Apothecary website: Our Nightshade chile chicory bitters are a bold and complex bitters, perfect for the fall and winter. Inspired by the desert and with nods to staple ingredients in Mexican cuisine, these bitters are a wonderful combination of spicy heat, light smokey notes and a rich and earthy backbone. As they progress, savor the flavors of several types of chiles, cinnamon, chicory and other dark botanicals and spices.
Spirits: These bitters are quite versatile and can add a little something extra to a variety of cocktails and spirits. They are obviously at home with agave based spirits but also play great with rye and dark rums.
Ideas: The simplest ways to start with these bitters are in a mezcal Manhattan or a rye Old Fashioned.
Tasting Notes: Aroma notes of earthy chiles, smoke, kola, cinnamon and chocolate.
The taste reinforces the aromas with added notes of spice, dark fruit and a nice bitter.