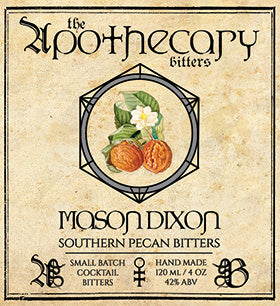 $22.00
Apothecary Mason Dixon Southern Pecan Bitters, 4 oz
From The Apothecary website:
Mason Dixon - Slowly beneath the magnolia tree.... .
Our Mason Dixon Southern Pecan bitters are dark, rich and very flavorful. Inspired by the agriculture and cuisine of the Southern US states, these bitters start with strong flavors of pecans, peaches and sarsaparilla, finishing with a pleasant bitterness and notes of black tea, campfire smoke and molasses.
Spirits: Whiskey, dark rum, sweet vermouth and apple brandy.
Ideas: Try them in a rye old fashioned, a rum Manhattan or a whiskey sour.
Tasting Notes: Aroma notes of pecans, root beer, black tea, smoke and a subtle sweetness. Taste follows with pecan, peaches, sarsaparilla, botanicals, smoke and a nice bitterness.