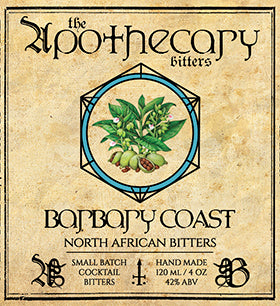 $22.00
Apothecary Barbary Coast North African Bitters, 4 oz
From The Apothecary website:
Barbary Coast - as the sun sets across the Mediterranean . . .
Our Barbary Coast North African bitters are vibrant, fresh and highly aromatic. Inspired by the ingredients in North African cuisine, these bitters start with a top notes of dried fruits, ginger and cardamom, giving way to rich spices, peppercorns and herbs with aromatics of lemon, saffron and honey.
Spirits: Pisco, tequila, gin, dry vermouth and apertivo liqueurs
Ideas: Try them in a Martinez for a twist on a classic or in a pisco sour or martini.
Tasting Notes: Aroma notes of lemon, cardamom, honey and saffron. Taste follows with dried fruits, citrus, spices and a firm bitterness.